You know that old line about using like, 10% of your brain's capacity? Turns out that was a load of hooey, but when it comes to social media and the plethora of options we have as marketers, it's difficult to get even a 10% bandwidth to explore all the new features available to us. We have powerful solutions to reach audiences across social media, but they change so quickly that it's hard to keep up to date with the new tools, updates and add-ons that make our jobs easier and more effective.
To save you a little time, we're rounding out 10 new social media tools and updates that should be on your radar – they might just come in handy for your next campaign!
Facebook & Instagram
Reports show that in the early days of carousel ads, they performed ten times better than standard, static Facebook ads. To keep chasing these kinds of numbers, Facebook is constantly evolving new ad types and features to improve engagement and extend into Instagram real estate. Currently, in any given Facebook newsfeed only about 3% is actually paid content, but nobody wants a slow-loading, boring ad sandwiched between photos of grandma's trip to Cuba (it was awesome), and your friend's sweet new dirt bike (it kicks ass).
Here are some of Facebook's recent updates to help us stay ahead…
1. Facebook Canvas
Facebook's currently rolling out Canvas. Branded as an "immersive and expressive experience for businesses to showcase their stories," which is corporate-speak for ads that are visually appealing and don't annoy the crap out of users. A sort of clickable slideshow, Canvas allows users to click, zoom and scroll through seamless images, and you can create custom calls to action to convert them along the way. It's mobile-first, which means regardless of your device, you're gonna see some great looking visuals that load quickly. It's great for ecommerce, allowing companies to feature their product catalog, and awesome for reach, with Facebook reporting that test users viewed around 53% of Canvas ads.
2. Facebook Video Ads
Tailored primarily for small businesses, Facebook Video Ads are a simple way for brands on a budget to create visually appealing video ads to capture their audience's attention without the cost of producing an actual video. Facebook has created a builder for video ads so we can use short videos or still images to create a video slideshow, making this easy to use for marketers without much video editing experience. The slideshows are lightweight, helping marketers reach people in areas where high-speed internet connections aren't always a given, and the ability to add a CTA helps drive home a conversion. Video ads can be blasted on both Facebook and Instagram simultaneously (if desired) and the format has already got some great case studies: Coke Africa used these fast-loading slideshows to reach 2 million people and boost ad awareness by 10% in Nigeria and Kenya.
3. Facebook Live
Facebook Live is here and became ubiquitous seemingly overnight. It allows (nearly) everyone to live video stream absolutely everything from special announcements, to your most recent trip to the bath. While livestreaming on social media isn't exactly new, and marketers already got a start with Meerkat, Periscope and G+ Hangouts, Facebook Live adds the breadth of their audience to the mix. The spontaneity of hitting record and notifying your community that you're live broadcasting allows you to capture moments on the fly (or plan for coverage), and create genuine connections with your audience. Of course live videos can be repurposed: after your livestream ends, it lives on on your Facebook page or profile as a regular video. See who's Live around the world right now with the Facebook Live interactive map!
4. Instagram's New Feed Algorithm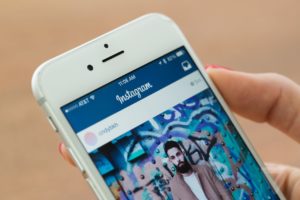 Altering the newsfeed to prioritize content users are more likely to be interested in over a strictly chronological list is nothing new. Facebook's does it, LinkedIn does it, and even Twitter has been trying this idea for a couple months now. What makes Instagram's controversial move to an algorithm interesting is that critics worry it'll change the platform's function from one that was more about connecting in-the-moment to one that claims to focus on relevancy somewhat regardless of timing, but ultimately just opens the door for more ad placements similar to how Facebook evolved their own newsfeed algorithm. Watch this space…
 Other Social Media Platforms & Tools
5. Adobe Post
Adobe Post should be a familiar interface for any vets of Canva or other graphic-design-for-non-graphic-designer software. The idea is simple: you take a picture, you find a great filter and template, you add some text and BOOM– you've got yourself a graphic! Of course, Post has far less flexibility than Adobe's full-scale products like PhotoShop, and doesn't feature hosted CTAs or clickable text yet, but for the marketer who wants to create some graphics on the fly without having to take a trip down to the design department, this is a solid tool. Post is perfect for seasonal greetings, last minute needs and simple imagery. Considering the number of crappy ad visuals that probably populate your Facebook feed at any given time, when used well, Adobe Post can help us stay ahead of the pack.
6. RiteTag
RiteTag is a one-click time-saving tool that optimizes your social posts to suggest relevant hashtags, graphics, emojis and more! Marketers can even set a custom CTA to automatically accompany all their shared links. RiteTag is a Chrome extension, and works on 14 major social media platforms like Facebook, Instagram, Twitter, and more, but you're going to get the most mileage out of this one on Twitter and Instagram, with its ability to zero in on popular hashtags relevant to your posts.
RiteTag has been around for a couple years now, but has flown relatively under the radar until now. The downside of RiteTag is that if you *need* a program to tell you what hashtags or which emojis to use, your issues *might* run a little deeper than needing a new tool… But if you're on hour 3 of tweaking your long-term content calendar a little automated help might be welcome, provided you apply the suggestions judiciously.
Another useful feature to improve social media outreach is this app's ability to fetch a list of top influencers on Twitter for specific hashtags. The free version caps you to 10 influencers per tag, which makes influencer hunting tough if you're using broad tags, but it's a great place to start with targeted tags.
7. Commun.it
At face value, Commun.it is just another Twitter management tool, but it actually has a lot of horsepower for influencer work. Commun.it's app lets you tag and prioritize specific members of your Twitter community depending on their value to your community. Yeah, yeah, everyone's got a voice, but identifying your influencers, most engaged followers and key supporters helps you triage replies and target the right people for outreach initiatives.
Other great features include feed segmenting with suggestions on who to follow, who to unfollow, who's important to reply to, and so on. What's more is that Commun.it pulls automated analytics reports with customizable filters and comparisons (day-by-day or week-by-week).
8. Landscape
Not the coolest on our list, but in terms of utility, Spout Social's Landscape tool for resizing social media graphics is a blessing. We all probably have at least a couple social media size guides and cheat sheets bookmarked for reference. And sure, you can use Photoshop, iPhoto, a combination of both, or any number of websites offering picture resizing, but there's nothing quite like the ease of Landscape's drag n' drop interface and output for different platforms.
Moreover, Landscape lets you chose between different social media types and image options to focus on your needs instead of the specs. For example, instead of resizing your Facebook banner to 851 x 315 (so many numbers!!), just tap the "Facebook cover photo" option, and your photo's all set to optimal specs. This is a really simple way to shave off precious minutes and possibly even hours from the time it takes to optimize and crop all of your graphic assets.
9. LinkedIn Elevate

Here's a harsh truth: the people who are part of your company might be more compelling to follow than your company as a whole. Content posted by an actual person, with an avatar and a name is 3 times more trustworthy than when it comes from a company page! That's why LinkedIn introduced Elevate, a tool that allows your employees to post (approved) content to your feed automatically.
LinkedIn's rationale is that given employees have on average 10 times as many connections as their companies, engagement will increase if individuals are associated with sharing activity on a company page. Moreover, companies who are more socially engaged on LinkedIn are 57% more likely to increase sales leads, 58% more likely to attract top talent, and 20% more likely to retain employees. In addition, it helps reward high-performing employees and raise the visibility of subject matter experts within your company.
Social Media Takeaways
As digital marketers, part of our job is to perpetually learn new tricks and discover other ways to get the most out of our online initiatives. These formats, apps, tools and add-ons only scratch the surface of our ongoing commitment to an ever-changing landscape, but hopefully some of them well give you a leg up this year.